Diamond blade is a cutting tool, which is widely used in the processing of hard and brittle materials such as stone, concrete, and ceramic tiles.
The diamond blade contains multiple parameters such as the type of alloy bit, the material of the substrate, the diameter, the number of teeth, the thickness, the tooth profile, the angle, and the aperture.These parameters determine the processing capacity and cutting performance of the saw blade.
There are many types of diamond blades, and we can choose the diamond blade with the right size according to the needs of our products.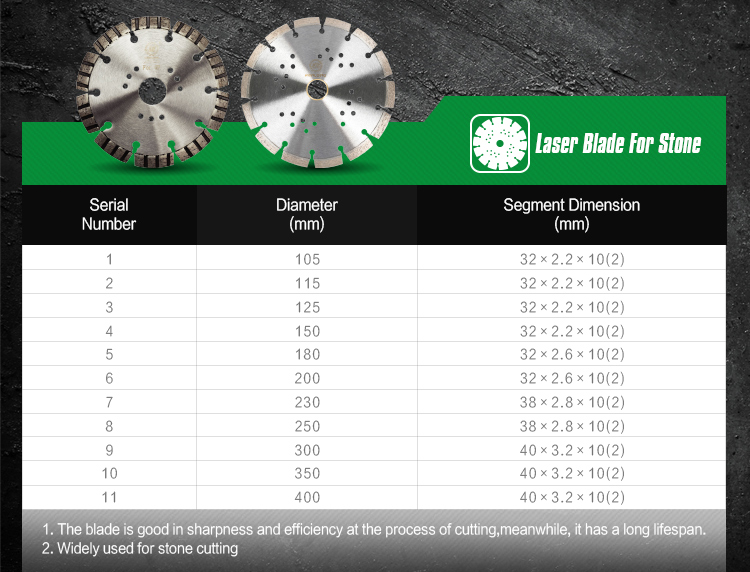 So what are the common diamond saw blade standards
The diameter of the saw blade is small, and the cutting speed is relatively low; the large diameter of the saw blade has higher requirements for the saw blade and sawing equipment, and the sawing efficiency is also high.
The outer diameter of the saw blade is selected according to the different circular saw machine models to use the saw blade with the same diameter.
The diameters of standard parts are: 110MM (4 inch), 150MM (6 inch), 180MM (7 inch), 200MM (8 inch), 230MM (9 inch), 20MM (10 inch), 300MM (12 inch), 350MM ( 14 inch), 400MM (16 inch), etc.
4 inch, 9 inch, 14 inch diamond blade: Laser blade for stone
1.The blade is good in sharpness and efficiency at the process of cutting,meanwhile,it has a long lifespan.
2.Widely used for stone cutting