Ceramic tile is a common building material in our daily life, and it is widely used in decoration and construction industries.
In the process of construction and decoration, it is often necessary to cut tiles with a saw blade to achieve the best size.Therefore, it is important to choose the best porcelain tile cutting saw blades
The best porcelain tile cutting saw blades:Dry cutting blade
1.Fast cutting speed and small cutting gap.
2. High cutting efficiency and no chipping.
3.This product is widely used for cutting and nondestructive grooving on marble,granite, porcelain tile,concrete, decorative material,used on manual cutting machine.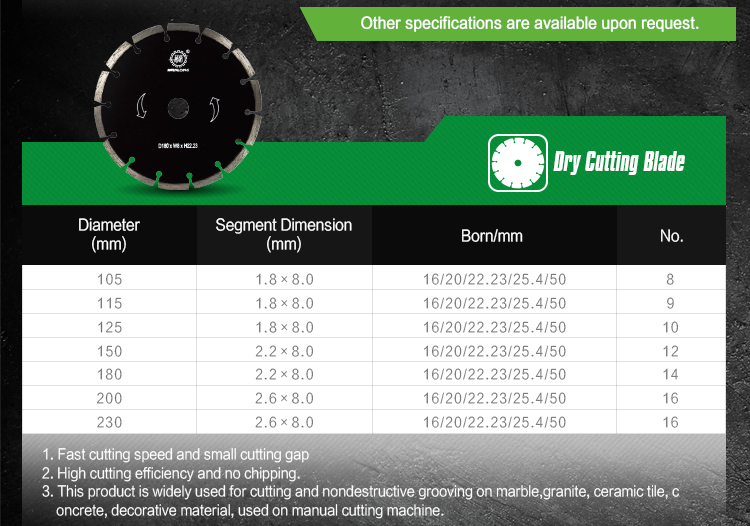 | Diameter(mm) | Segment Dimension(mm) | Born/mm | No. |
| --- | --- | --- | --- |
| 105 | 1.8×8.0 | 16/20/22.23/25.4/50 | 8 |
| 115 | 1.8×8.0 | 16/20/22.23/25.4/50 | 9 |
| 125 | 1.8×8.0 | 16/20/22.23/25.4/50 | 10 |
| 150 | 2.2×7.5 | 16/20/22.23/25.4/50 | 12 |
| 180 | 2.2×8.0 | 16/20/22.23/25.4/50 | 14 |
| 200 | 2.6×8.0 | 16/20/22.23/25.4/50 | 16 |
| 230 | 2.6×8.0 | 16/20/22.23/25.4/50 | 16 |