Why do we need to cut concrete? In most projects, reinforced concrete is used as the foundation of the building. But there are many times when we have to demolish the concrete, such as when the construction staff finds a drawing error during the construction process, or when the design changes It is necessary to demolish the concrete structure that has been poured.
For example, the completed high-speed railway piers and urban buildings have hindered people's lives as the needs of urban functions change, and this also requires construction personnel to demolish. This requires the use of more advanced building demolition technology concrete cutting, And this also requires the use of diamond concrete saw blade.
Concrete cutting is currently a more advanced technology for demolition of concrete structures. The use of diamond concrete saw blade has too many advantages compared with traditional concrete structure demolition.
The most traditional demolition method is manual picking or mechanical crushing. Later, static crushing and blasting demolition appeared. Everyone knows that the use of manual picking is very labor-intensive and inefficient, while the use of mechanical crushing, static crushing or even blasting demolition Although the speed has increased, the danger is also increasing, and several demolition methods are difficult to ensure that the cutting task is completed in strict accordance with the requirements.
The concrete cutting is completed to break through these restrictions, which not only saves manpower, but also can be cut regularly according to the requirements, and will not cause damage to the buildings that need to be retained.
At present, the most common diamond saw blades for concrete are 14-inch and 16-inch saw blades, which have high cutting efficiency and long service life, and are well received by the market.
14 inch and 16 inch diamond concrete saw blade:Laser Blade For Concrete
1.The blade is good in sharpness and efficiency at the process of cutting, meanwhile, it has a long lifespan.
2.Widely used for concrete cutting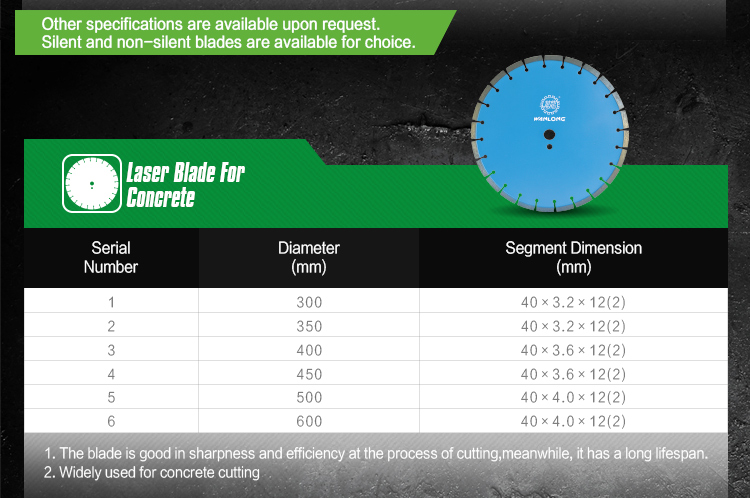 Other specifications are available upon request.
Silent and non-silent blades are available for choice