There are many types of concrete diamond blades, and they are also widely used. So what is the use of concrete diamond blades? In summary, there are mainly the following ten aspects.
Concrete diamond saw blade for circular saw: Laser Blade For Concrete
1.The blade is good in sharpness and efficiency at the process of cutting, meanwhile, it has a long lifespan.
2.Widely used for concrete cutting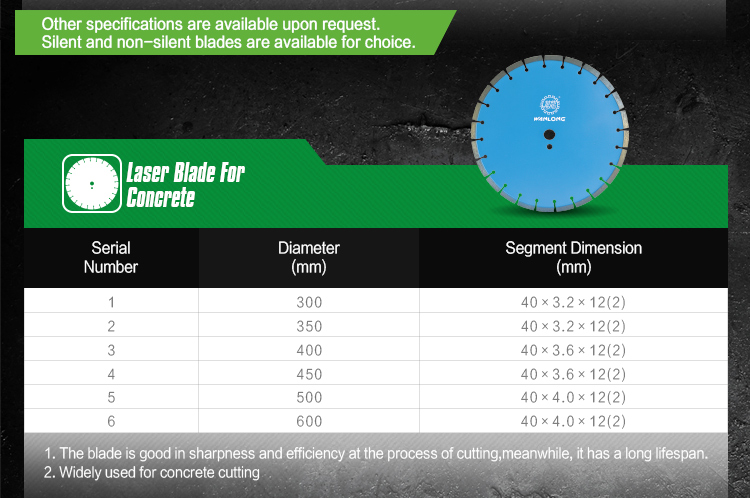 What are the effects of the use of concrete diamond blades
1. If you want other unusual specifications, it can be manufactured according to the user's own needs.
2. Constantly discuss the sharpness and wear resistance of different cutting objects, and develop new products in time based on customer feedback, which can accelerate the cutting rate.
3.Concrete diamond blades can be cut with water and can be used on road cutting machines.
4. The cutting time is no longer so long, which also determines the cost reduction of its implementation.
5. Concrete diamond saw blade are used to cut concrete walls and brick walls
6.The use of pre-alloyed powder to make the carcass can reduce the ineffective drop of diamonds, and can greatly fluctuate and play the role of its use. The scale that can be cut is 1500 meters to 3000 meters.
7. The cutting function of reinforced concrete is better.
8. The concrete diamond blade uses laser welding technology and high-frequency welding technology. The combination of the cutter head is very strong and will not be easy to lose teeth.
9.The diameter of the saw blade that can be supplied is within the scale of 300 meters to 1800 meters.
10.It can be used for the renovation of concrete and roads that have been cutting and pouring for more than a full day. The cutting speed is very fast, the wear resistance is also strong, and the use time is relatively long.