The 3 inch and 4 inch diamond dry core drill bits for concrete are the product of the continuous development of the times and the continuous advancement of urbanization. At present, many concretes are either demolished or reformed.
People in the construction industry know that concrete is no longer as difficult to disassemble or modify as it used to be. The appearance of diamond core bits used today has greatly improved work efficiency.
The commonly used 3-inch and 4-inch diamond dry core drill bits for concrete in our production are two very popular types in the current market.
Produced by Wanlong Diamond Tools: 3-inch and 4-inch diamond dry core drill bits for concrete
1 High effciency, long life and no breaking of segments
2 Sizes of adaptor for threaded bit:M14,M16, G1 2 ",5 8 "-11
3 Applicable for drilling of brick wall,concrete, concrete with steel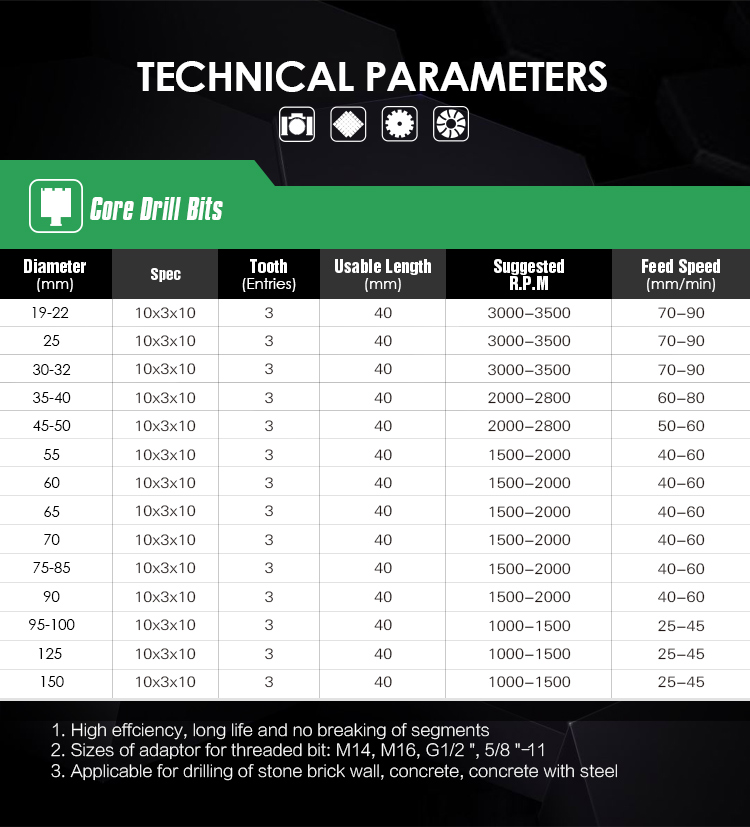 There are many techniques and precautions for the use of diamond dry core drill bits. When different masters use the same type of drill bit, the life of the drill bit is different. The mystery here is that the application method is different.
So how can we avoid problems in the application process, and at the same time, can also extend the use time of the diamond cutting disc drill bit? The marble cutting disc will be introduced in detail below.
1.During normal operation, it is forbidden to reverse the direction of rotation suddenly to avoid the drill bit from falling.
2.During normal operation, there should be no air leakage in the main air path of the air compressor, and sufficient air volume and air pressure must be ensured to extend the use time of the diamond drill.
3.When the new drill is used for the first time, it should be run-in at low speed for half an hour, and then gradually use it normally.
4. When operating in harsh geological environments, reduce the axial pressure and speed to avoid drill bit breakage.
5.During normal drilling operations, if the drill bit must be replaced halfway, strictly check whether there is debris in the hole, and ensure that the hole is clean before using the new drill bit.
6.In order to enable the normal and stable operation of the drill bit, the stabilizer should be replaced regularly.