Wanlong Times Technology has developed and produced various drill bits suitable for different working environments, diamond drill core bit, impregnated diamond bit, surface diamond bit, etc.
Our impregnated bits are designed to provide the best penetration and bit life necessary to keep diamond drilling costs to a minimum.
The optimum diamond size, concentration and matrix type depends on the hardness and abrasiveness of the formation to be drilled. Please read when ordering.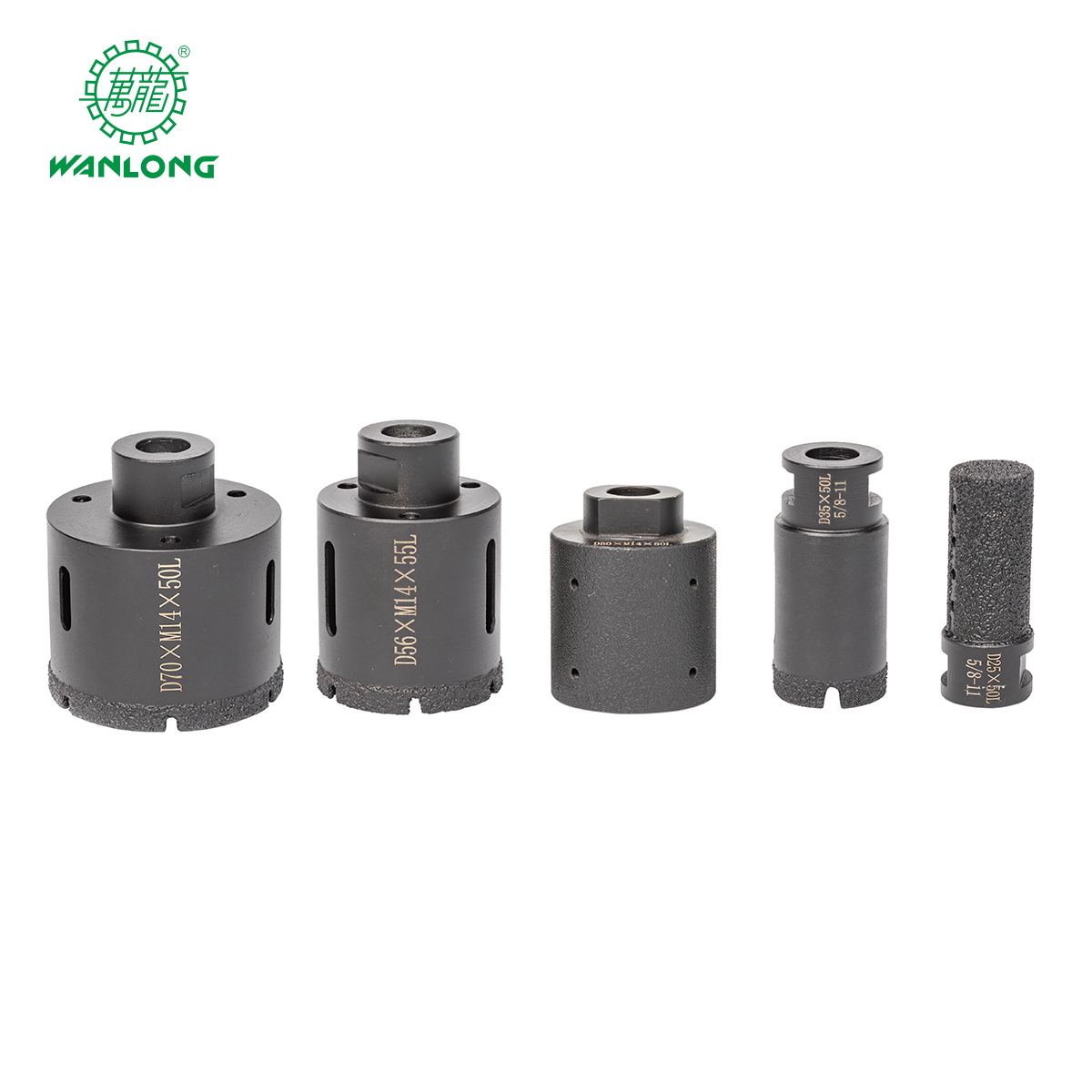 Drill Core Bit: Features and Application:
1. Excellent cutting speed with a long cutting life compared to electroplated core bits;
2. Ideal for marble and limestone drilling, can perform on granite, tiles, porcelain, concrete and more;
3. Could be used wet or dry with cooling slots design for easier core removal when stuck.
| Diameter(Inch/mm) | Segment Height(mm) | Grit Size(#) | Connection |
| --- | --- | --- | --- |
| 1/4″/6.3 | 8.0-10.0 | 35/50/60 | shank/M14/5-8″-11/G/1/2″ |
| 3/8″/9.5 | 8.0-10.0 | 35/50/60 | shank/M14/5-8″-11/G/1/2″ |
| 1/2″/12.7 | 8.0-10.0 | 35/50/60 | shank/M14/5-8″-11/G/1/2″ |
| 5/8″/15.9 | 8.0-10.0 | 35/50/60 | shank/M14/5-8″-11/G/1/2″ |
| 3/4″/19.0 | 8.0-10.0 | 35/50/60 | shank/M14/5-8″-11/G/1/2″ |
| 1″/25.0 | 8.0-10.0 | 35/50/60 | shank/M14/5-8″-11/G/1/2″ |
| 1-1/8″/29.0 | 8.0-10.0 | 35/50/60 | shank/M14/5-8″-11/G/1/2″ |
| 1-1/4″/32.0 | 8.0-10.0 | 35/50/60 | shank/M14/5-8″-11/G/1/2″ |
| 1-3/8″/35.0 | 8.0-10.0 | 35/50/60 | shank/M14/5-8″-11/G/1/2″ |
| 1-1/2″/38.0 | 8.0-10.0 | 35/50/60 | shank/M14/5-8″-11/G/1/2″ |
| 1-5/8″/41.0 | 8.0-10.0 | 35/50/60 | shank/M14/5-8″-11/G/1/2″ |
| 1-3/4″/45.0 | 8.0-10.0 | 35/50/60 | shank/M14/5-8″-11/G/1/2″ |
| 2″/51.0 | 8.0-10.0 | 35/50/60 | shank/M14/5-8″-11/G/1/2″ |
| 2-1/4″/57.0 | 8.0-10.0 | 35/50/60 | shank/M14/5-8″-11/G/1/2″ |
| 2-1/2″/63.0 | 8.0-10.0 | 35/50/60 | shank/M14/5-8″-11/G/1/2″ |
| 2-3/4″/70.0 | 8.0-10.0 | 35/50/60 | shank/M14/5-8″-11/G/1/2″ |
| 3″/76.0 | 8.0-10.0 | 35/50/60 | shank/M14/5-8″-11/G/1/2″ |
| 3-1/2″/90.0 | 8.0-10.0 | 35/50/60 | shank/M14/5-8″-11/G/1/2″ |
| 4″/100 | 8.0-10.0 | 35/50/60 | shank/M14/5-8″-11/G/1/2″ |