Nowadays, as the development of all walks of life continues to accelerate, more and more tools appear to make work more efficient. Among them, drill bits are one of them.
The drill bits are used in various industries, and the most common one is the diamond core drill bits and parts for granite. So how to choose it?
1. For soft, medium-hard and complete and homogeneous hard rock formations, surface-inlaid drill bits are generally suitable; for hard, hard and broken, uneven soft and hard, fractured and highly abrasive rock formations, impregnated drill bits should be used.
2. The hardness of the matrix should be selected according to the abrasiveness, degree of crushing, hardness, particle size and other factors of the rock formation. The main factors are the abrasiveness and crushing degree of the rock formation. The rock formation has strong abrasiveness, strong crushing degree, softer, and coarse particle size. Choose a hard carcass.
On the contrary, the carcass selected for rock formations with weak abrasiveness, complete homogeneity, high hardness and fine granularity (such as slipping rocks) should be soft.
If there is a conflict between abrasiveness and hardness, it is subject to abrasiveness. For example, when encountering a rock formation with strong abrasiveness and hardness, a special hard matrix should be selected. Otherwise, the matrix will be quickly worn by the rock layer and the drill will lose its working ability.
3.The rock formation is complex, the abrasiveness is stronger, and the harder, the better the diamond grade should be selected, and the finer the diamond particle size should be.
4. The rock formation is highly abrasive, relatively broken, and coarser. Choose a carcass with a higher concentration.
5. The rock formation is soft, broken, and highly abrasive, and the matrix is ??hard. If the impregnated drill bit is used, the water cross section of the nozzle of the drill bit should be large, and the multi-mouth drill bit should be used. On the contrary, the less-nozzle drill bit should be used.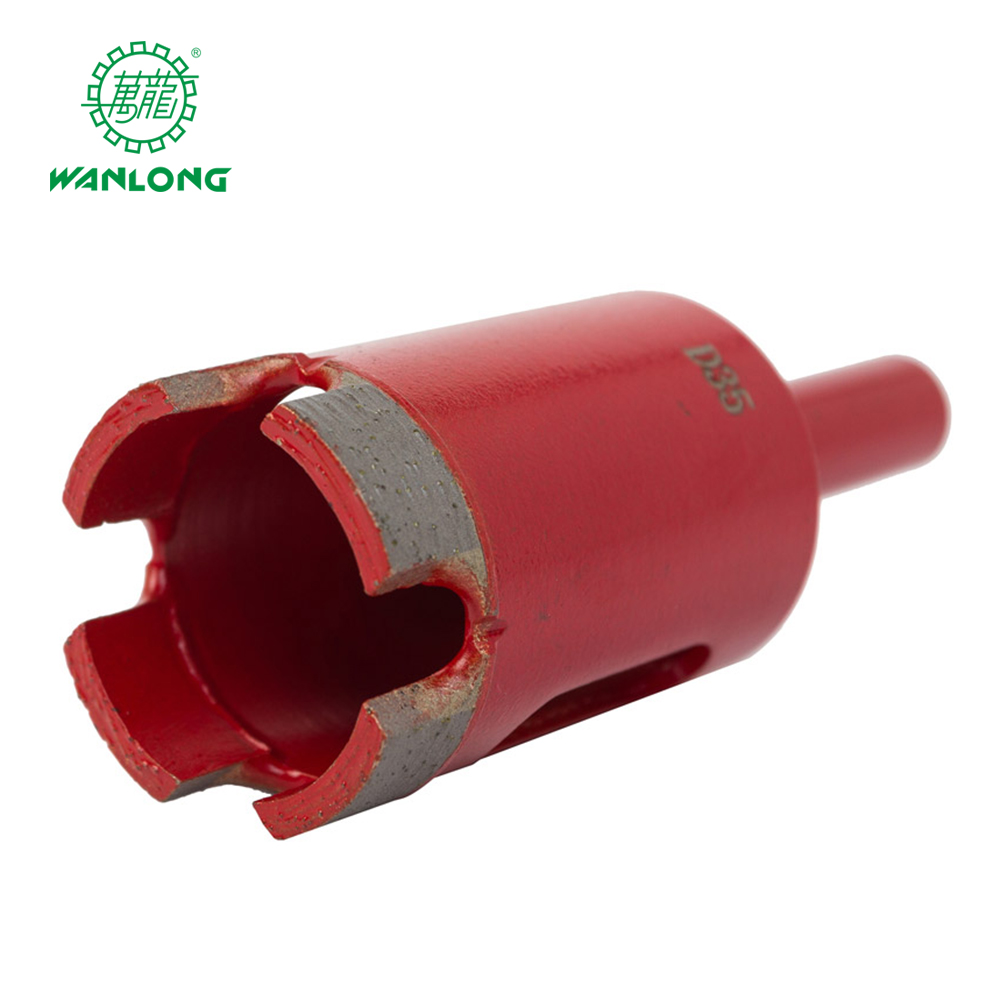 Wanlong Diamond Tools: Diamond core drill bits and parts for granite
1 High effciency, long life and no breaking of segments
2 Sizes of adaptor for threaded bit:M14,M16, G1 2 ",5 8 "-11
3 Applicable for drilling of brick wall,granite, concrete with steel

-All stone machinery and diamond tools can be ordered and manufactured!
-Quotation Manager
-WhatsApp: +8613636921105
-Email: export@wanlongstone.com
-Official website: www.wanlongmachines.com