With the acceleration of urbanization, urban construction changes with each passing day. In large cities, the ground cannot meet the transportation needs. Urban traffic extends upwards to elevated and light rails, and downwards to subways.
Wanlong, a concrete wire saw manufacturer, found that at present, some high-rise buildings have become a factor restricting urban development. To rebuild these high-rise buildings, it is inevitable to demolish some of them, to ensure that some of them are not affected and can be reused, which has become our face A difficult problem.
When the traditional demolition construction cannot be solved, the advanced diamond cutting wire saw rope is used to cut the concrete, which has the characteristics of safety, efficiency and environmental protection.
The word diamond cutting wire saw rope is believed to be familiar to people in the construction engineering industry. The machinery uses it to cut concrete members, walls, pavements, etc. The construction technology of concrete cutting is fast, with low noise, no vibration, and quality. Well, it has no impact on the building structure.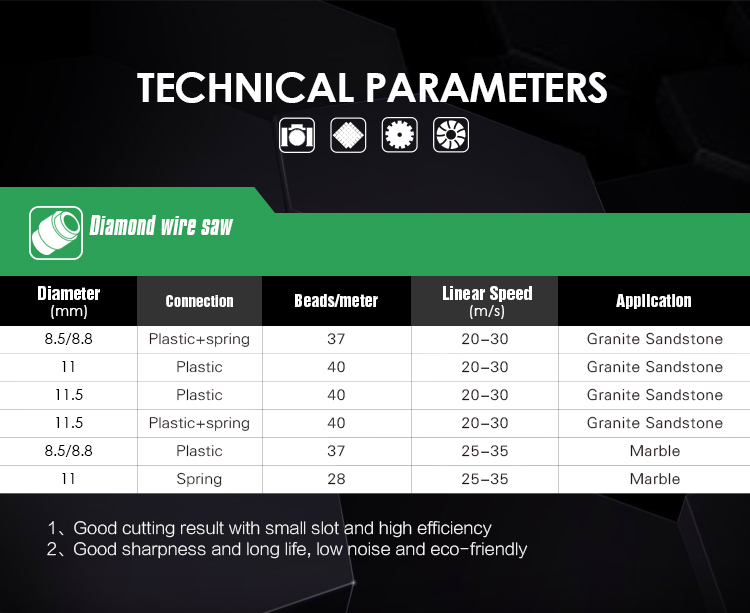 The diamond cutting saw wire produced by Wanlong Diamond Tools is widely used in concrete cutting.
The characteristics of diamond cutting wire saw rope:
1、 Good cutting result with small slot and high efficiency
2、 Good sharpness and long life, low noise and eco- friendly
The demolition of concrete by the diamond cutting wire saw produced by Wanlong Diamond Tools is not restricted by conditions such as construction site, environmental protection, construction period, and safety reasons.
Breaking the traditional construction method of air cutting or directional blasting after the removal of the pneumatic pick, it has the advantages of not affecting the normal traffic around, short construction period, and high safety factor.

-All stone machinery and diamond tools can be ordered and manufactured!
-Quotation Manager
-Email: export@wanlongstone.com
-Official website: www.wanlongmachines.com