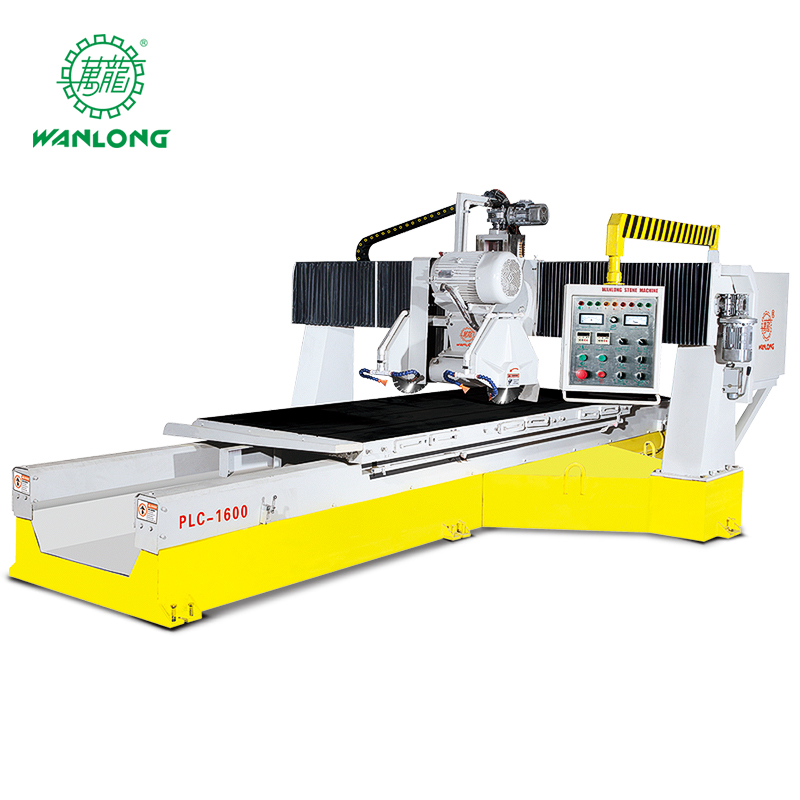 PLC-1600 Bridge Profile Machine
Product Detail
Detail Display
FAQ
Pre-Sales Service
PLC-1600 Bridge Profile Machine Product Features: This machine is suitable for large-scale cutting of profiles, Roman columns, and column plates.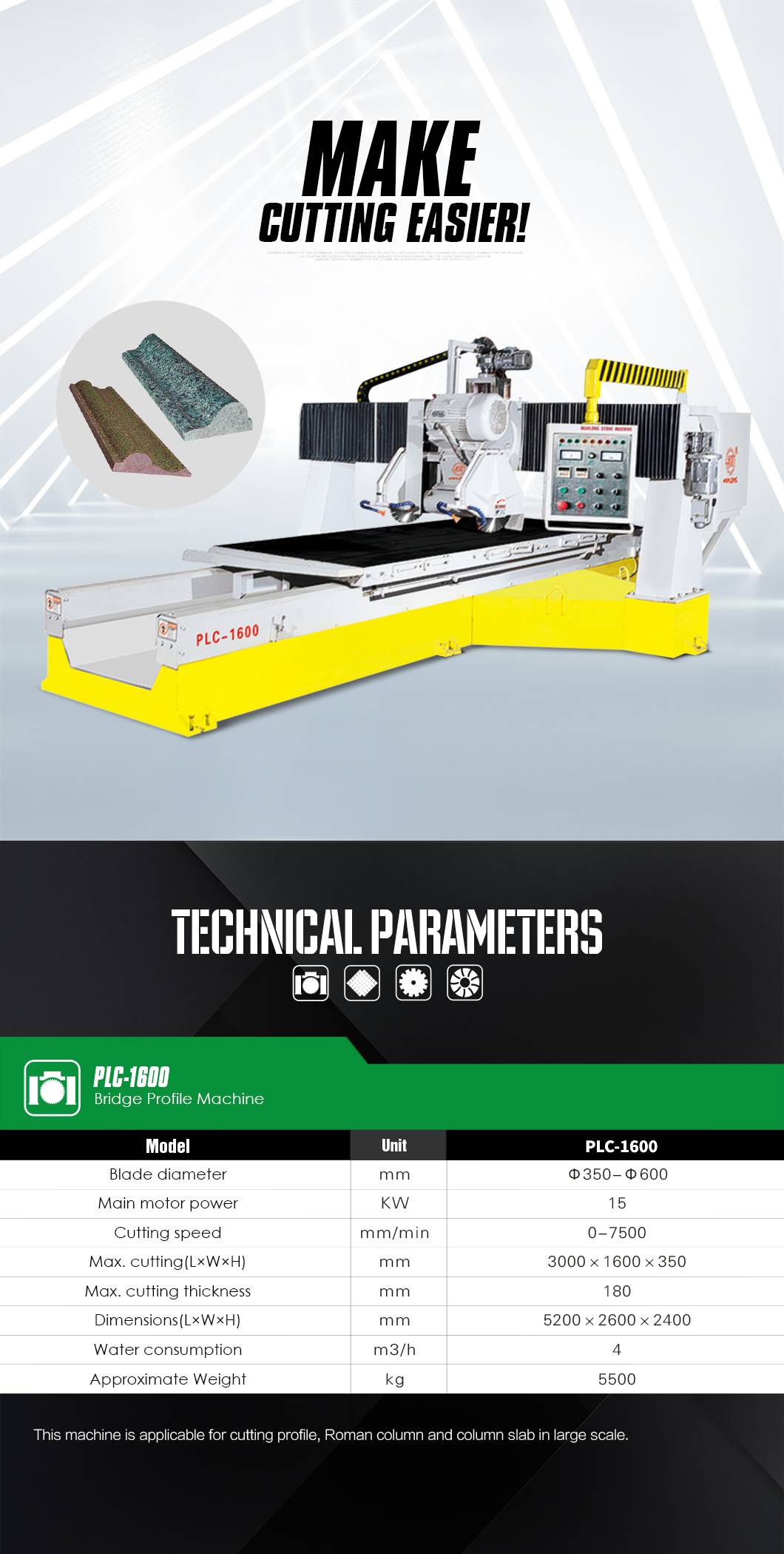 DETAII DISPLAY
1、Profile device
2、Transversai movemenv device
3、Computer Controlled system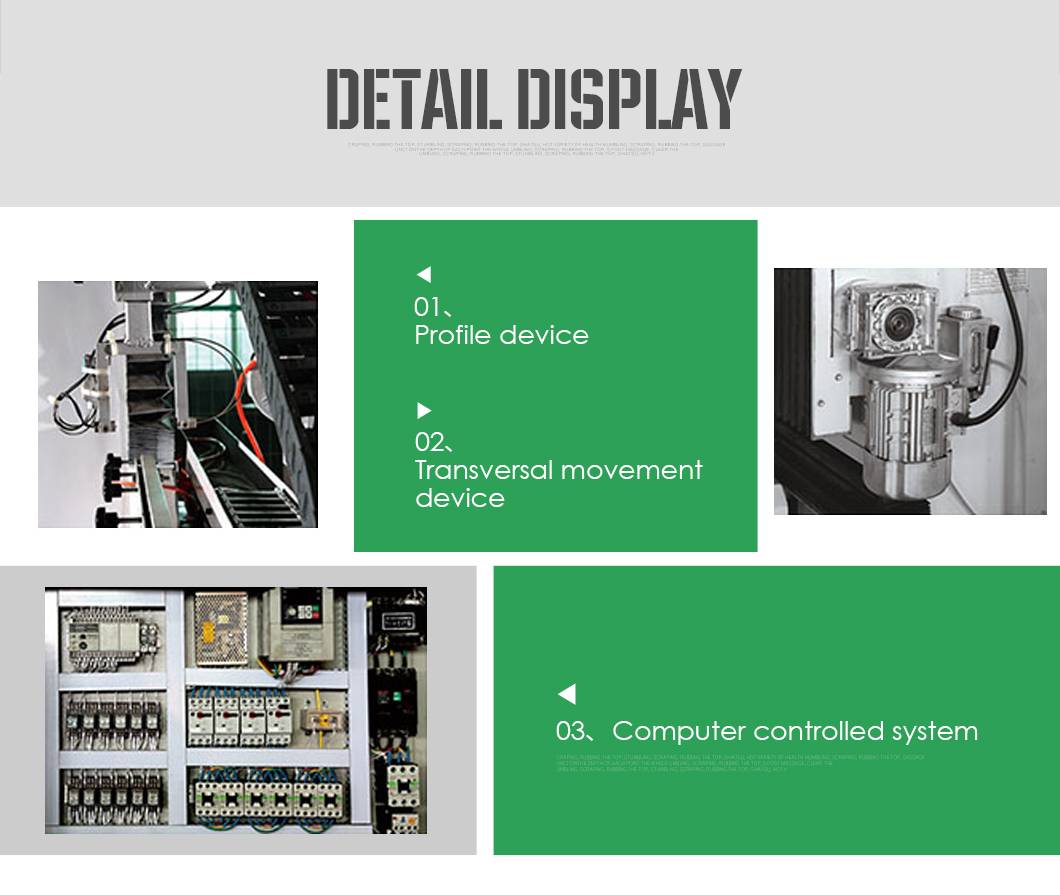 F: If we have already paid, how long will it take to ship the goods?
A: It mainly depends on the quantity of the order. Our monthly production capacity of diamond cutter heads is as high as 3,000,000 pieces. Generally speaking, we can ship the goods within one week after receiving the payment. Specially requested products will be negotiated separately. If you place an order, Wanlong will inform you of an approximate shipping date.
F: If our products are not used well, what should we do?
A: Please provide me with specific feedback information. Analyze the reason: trying to find a solution. If it is Wanlong's problem and cannot be solved, Wanlong will replace it.
F: How can I buy the most suitable diamond saw blade?
A: 1. Is the saw blade used for sawing, slicing, or other purposes?
The hardness, abrasiveness and granularity of the stone. If possible, please provide samples or pictures.
The machine used for saw blade is bridge cutting, table cutting or brick cutting.
The main motor of the machine, the number of revolutions per minute of the shaft, the cutting depth and the cutting depth.
The thickness of the base body with the proper size of the cutter head. 6 Basic requirements for the life of the saw blade The number of squares cut by each saw blade.
F: How do I know how much freight I need to pay?
A: To calculate the total weight of your goods, first choose a transportation method, confirm the current freight rate, then calculate the freight, and finally confirm the other costs and add them up.
F: After we pay, how long can we arrange the shipping?
A: It depends on the order quantity. Our monthly output of cutter heads is: 3 million. Usually, we will ship the goods within one week of receiving the payment. Special products, special consultations. Wanlong will inform the approximate sailing schedule before you place the order.
F: What is the minimum order quantity?
A: Any number of sample sheets is fine. For regular orders, Wanlong hopes that the weight of the ordered products can reach more than 45 kg (airlines have strict requirements on weight, in addition, the freight for goods under 45 kg is very high)
F: If we want to buy your products, can we provide free samples?
A: Wanlong never provides free cutter heads. This is a high-value product per unit, so very few diamond tool companies will provide free samples. If you want to test, please buy. According to Wanlong's many years of operating history, people will pay more attention to the tools they get after payment. Although the number and amount of samples are relatively small, its cost is higher than that of ordinary products.
F: We sell saw blades in large quantities in our country, and we only sell them under our own brand logo. Can you put our logo on the saw blade?
A: We hope that you can mark Wanlong on the saw blade, because Wanlong is also a well-known brand in the diamond industry. However, if you insist on printing your company's logo, we will do it for you, but one percent of the entire saw blade amount will be charged.
F: We plan to buy diamond tools from your company, but how can we confirm your quality?
A: Nowadays, many people like to use Chinese products. Although the quality is not the best, the price is very competitive. Wanlong is a professional with more than 20 years of history in the stone tool industry.
F: Do you have a stone cutter for cutting thin slabs?
A: Yes, we have a slab cutter-infrared automatic bridge stone cutter and integrated bridge stone cutter with the additional function of inclined cutting (0-50 degrees), you can choose manual or automatic. This is an optional feature.
F: Which is the best finger drill or oblique straight tooth with curved teeth?
A: Oblique straight tooth finger drill, this design is conducive to chip removal and water flow.
F: What is the difference between the cutting objects of turbine blades and agglomerated dry slices?
A: Compared with agglomerated dry slices, turbine slices have better continuity when cutting, and are suitable for cutting marble. Agglomerated dry slicing, suitable for cutting granite.
F: What is the difference between dry and wet slices?
A: The main difference is: the way the diamond tip is welded to the substrate is different. Wet cutting uses a brazing process. Half of the dry cutting is laser welding. Laser welding has a higher melting point. In addition to the welding method, another difference is: the carcass. The carcass of dry slices is relatively soft, making it easier to cut without cooling water.
Wanlong Group has a strong sales (pre-sales and after-sales) service team
1. Inquiry and consultation support.
2. Check our factory.
3. Visit the local stone factory to understand the performance of our machine
4. Visit the local stone factory to learn about the performance of our machines
5. After-sales service
Dispatch technicians overseas for machine installation and training on how to operate the machine.
6. Warranty 12 months