Stone is not only the oldest building material in human history, but also a building decoration material with artistic value and economic value in the world. Humans have a long history of using marble and granite as building decoration materials, so what are the steps of stone processing? Stone processing is divided into plate processing, special-shaped stone processing and stone inlay processing.
1) Plate processing.
A) Large stone slabs: the blocks are sawed into raw boards; one side is roughly ground to form rough boards; the rough boards are processed into smooth boards through fine grinding, fine grinding, polishing and other processes on the surface; then glued to the back, cut and repaired to become Large size slabs. Most of the stone slabs have a mirror effect. They can also be treated with pickling, water washing, fire, sandblasting and other processes according to needs, showing matte, lychee, pineapple, antique and other effects.
B) Stone composite board: It is made of two or more different boards bonded with adhesive. The surface material is ultra-thin natural stone, and the substrate is ceramic tile, stone, glass or aluminum honeycomb.
Advantages: light weight, high strength, improved anti-pollution ability, easier control of color difference, sound insulation and moisture resistance, convenient installation, energy saving and consumption reduction, cost reduction, etc.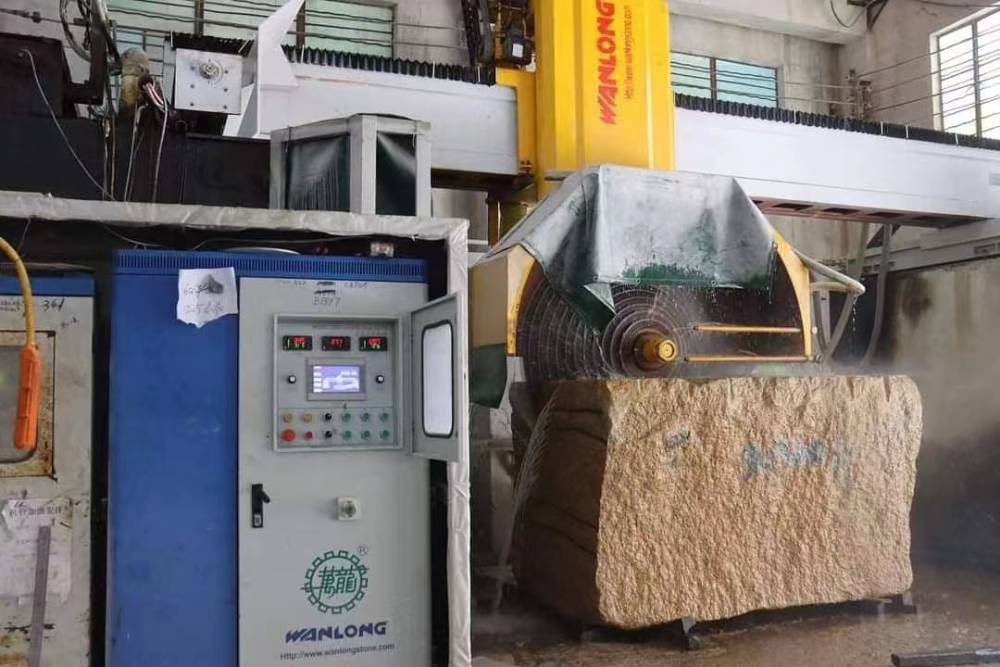 2) Shaped stone processing.
Special-shaped plates, architectural sculptures, mosaic carvings, various complex and beautiful curved surfaces, cylindrical surfaces and even stone furniture, etc., all put forward new requirements for stone processing. Diamond wire saws, band saws and drilling and grinding tools are the main tools, combined with computer-controlled high-tech processing equipment to fully meet this requirement. Shaped stones have a variety of outlines, including patterns, arc plates, column bases, column heads, plane carvings, three-dimensional sculptures, etc.
3) Stone mosaic technology.
The processing process is mainly divided into template making, parts making, adjustment and assembly, seam reinforcement, grinding and polishing, etc. The production of mosaic templates is mainly to draw mosaic patterns on plywood according to the design requirements, and mark the type of stone used in each pattern. Then use a sharp knife (water jet) to cut out each graphic component along the outer line of the pattern, and use an adhesive to position the cut mosaic components to form an overall pattern.