The core drill bit is a special cutting hole circle, it has high efficiency, long life, and continuous slice.
The Core Drill Bits mainly used for drilling brick walls, concrete and reinforced concrete
There are some disadvantages: The drill being used must be capable of producing high torque at low speeds.
Core drills can bind with the dust especially if water is used – regular cleaning may be required during drilling.
The most important thing to recognise is the high chance of the bit causing a 'kick back' if it jams in the hole.
For this reason a drill with a handle or preferably a clutch mechanism is a good idea – especially if the drill is being used at height!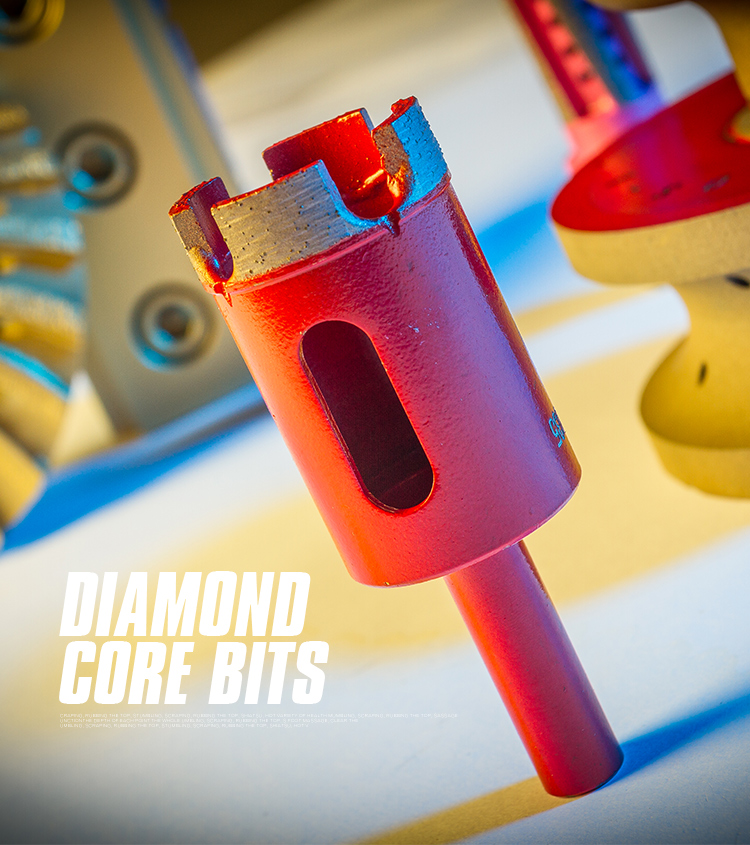 Product features of Core Drill Bits
1 High effciency, long life and no breaking of segments.
2 Sizes of adaptor for threaded bit:M14,M16, G1 2 ",5 8 "-11
3 Applicable for drilling of brick wall,concrete, concrete with steel.
Type
Code
Description
(mm)
Spec
Tooth
(Entries)
Usable
Length(mm)
Suggested
R.P.M
Feed Speed
(mm/min)
Core Drill Bit
CDB
19-22
10*3*10
3
40
3000-3500
70-90
Core Drill Bit
CDB
25
10*3*10
3
40
3000-3500
70-90
Core Drill Bit
CDB
30-32
10*3*10
3
40
3000-3500
70-90
Core Drill Bit
CDB
35-40
10*3*10
3
40
2000-2800
60-80
Core Drill Bit
CDB
45-50
10*3*10
3
40
2000-2800
50-60
Core Drill Bit
CDB
55
10*3*10
3
40
1500-2000
40-60
Core Drill Bit
CDB
60
10*3*10
3
40
1500-2000
40-60
Core Drill Bit
CDB
65
10*3*10
3
40
1500-2000
40-60
Core Drill Bit
CDB
70
10*3*10
3
40
1500-2000
40-60
Core Drill Bit
CDB
75-85
10*3*10
3
40
1500-2000
40-60
Core Drill Bit
CDB
90
10*3*10
3
40
1500-2000
40-60
Core Drill Bit
CDB
95-100
10*3*10
3
40
1000-1500
25-45
Core Drill Bit
CDB
125
10*3*10
3
40
1000-1500
25-45
Core Drill Bit
CDB
150
10*3*10
3
40
1000-1500
25-45