Diamond blade is a tool for cutting stone. At present, most of the stone is cut with it. So what are the sizes of diamond blades?
Under normal circumstances, we have to decide the diamond saw blade to use according to the size and type of the stone to be cut.
Diamond blade specifications Domestic stone processing saw blade base specifications are generally 105-3500mm (foreign large-scale saw blade specifications are 5000mm).
Among them, diamond blades with specifications below 250mm are mainly used for decoration and trimming on handheld and semi-professional cutting machines;
P350-500mm sheet is mainly used for processing semi-finished sheet building materials into engineering slotting (broken);
Sheets of 600-900mm specifications are mainly used for the forming and sawing of thicker plates (pillars) such as tombstones and tomb pillars.
Saw blades with specifications above 1000mm are mainly used for sawing blocks into wood (board) for processing. Currently, 1600mm saw blades are commonly used.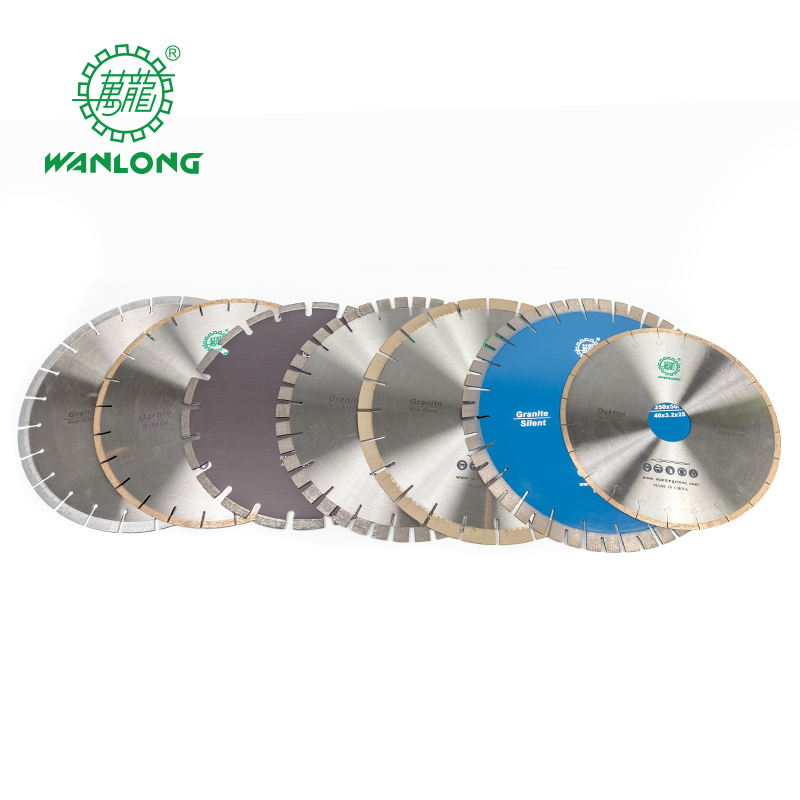 Circular diamond blades below 250mm are called small-diameter saw blades, which are suitable for cutting marble, granite, ceramic tiles, concrete, decorative materials, and grooving damaged buildings. It can be cut dry or wet.
Cutting blade for semi-finished stone. The diameter of the normally used blade is below 900mm. It is widely used in the trimming of various stones such as slate, granite, marble, limestone, sandstone and so on.
Stone block cutting refers to the cutting of three-dimensional stone from the mine into plates.The stone blocks need to be cut with large-diameter saw blades.The diameter of such blades is usually between 1600-4500mm.
When cutting stone blocks, a large diamond blade is generally used for cutting, which is formed by welding the base body and the cutter head. And through frequency welding.
The cutter head adopts a three-layer structure with a trapezoidal section, which eliminates side friction and lateral deviation and improves the guiding performance of the cutter head. Improve the accuracy and quality of sawing. And the difference is that the cutter head should have a balanced ratio in the width direction of the substrate.

-All stone machinery and diamond tools can be ordered and manufactured!
-Quotation Manager
-WhatsApp: +8613636921105
-Email: tools@wanlongstone.com
-Official website: www.wanlongmachines.com