The 230mm diamond dry cutting blade produced by Wanlong Diamond combines many advantages. Widely used in marble, granite, ceramic tiles, concrete and other various stones, 230mm diamond dry cutting blade, easier to cut
1.Fast cutting speed and small cutting gap.
2. High cutting efficiency and no chipping.
3.This product is widely used for cutting and nondestructive grooving on marble,granite, ceramic tile,concrete, decorative material,used on manual cutting machine.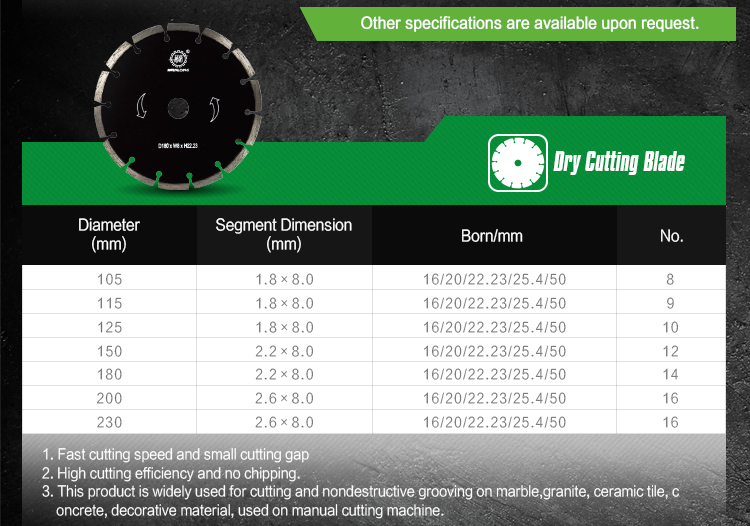 | Diameter(mm) | Segment Dimension(mm) | Born/mm | No. |
| --- | --- | --- | --- |
| 105 | 20×1.8×7.5 | 16、20 22.23 25.4、50 | 8 |
| 115 | 20×1.8×8.0 | 16、20 22.23 25.4、50 | 9 |
| 125 | 20×2.0×8.0 | 16、20 22.23 25.4、50 | 10 |
| 150 | 20×2.0×7.5 | 16、20 22.23 25.4、50 | 10 |
| 180 | 20×2.2×8.0 | 16、20 22.23 25.4、50 | 14 |
| 200 | 20×2.2×8.0 | 16、20 22.23 25.4、50 | 14 |
| 230 | 20×2.4×8.0 | 16、20 22.23 25.4、50 | 16 |
| 250 | 20×2.4×8.0 | 16、20 22.23 25.4、50 | 18 |
| 300 | 20×2.6×8.0 | 16、20 22.23 25.4、50 | 22 |
| 350 | 20×2.8×8.0 | 16、20 22.23 25.4、50 | 24 |